by Duane Craig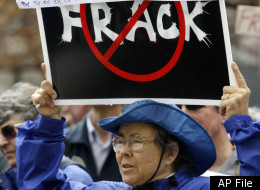 Some Texans oppose Fracking.
Thinking of oil and gas? Well, think of Texas. But, some Texans are sounding the alarms about fracking, the process of hydraulic fracturing that busts open stone below ground to get the gas out. You don't often see protests in Texas and while the recent one was not a blockbuster, it does signal there are people in Texas who think differently than other Texans, and they are not as inclined to see fracking as a valuable economic stimulus.
With the planned expansion of drilling in the Barnhart Shale some Fort Worth communities have put moratoriums on drilling permits and Dallas is concerned enough about drilling activities within its borders to have set up a task force to look into the matter.
Then too, since Texas has been one of the early adopters of fracking, there is history there that calls into question the overall value of the practice. Start and end with the money. The amount paid for leases has declined dramatically since 2008. Some of the frackers admit they haven't handled their businesses well either.